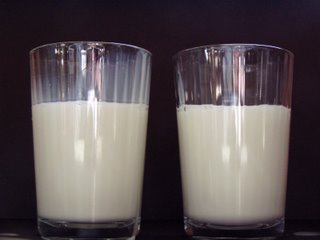 One glass for you, one glass for me!
When we last left the blog, I promised you a post about the food my BBF and I made while she visited. Go grab a glass of mild and get ready because this post is full of rich and tasty Super Brownies!
Right before BBF came, I had made box brownies. When I mentioned this in a chat, she stated that we NEEDED to bake together, we always bake together. I had a bunch of stuff to bake so I said okay! I'm always up for baking. We knew we wanted to bake oatmeal chocolate chip cookies - my signature cookies - and banana bread since I had a bunch of bananas in my freezer. I thought it would be fun to also bake something we had never baked before so I went searching. While searching, I found
these
. Yes, those are Ultimate Chocolate Chip Cookie 'n Oreo Fudge Brownie Bars! :P While looking at the recipe, I figured we could make them "dorm room style." What I mean by "dorm room style" is cheap and quick! So, instead of making cookie dough or brownies, we bought cookie dough and brownie mix. We also decided to not add any fudge since being so high in altitude, it probably would have affected the baking time. So since we were changing up the recipe, we decided to change the name since "Ultimate Chocolate Chip Cookie 'n Oreo Fudge Brownie Bar" is way too long to say with one breath! We thought on it for a few minutes and BBF decided on Super Brownies which worked perfectly. Short, descriptive - because they ARE super - and perfect!
So we went out and bought all that I didn't already have and put these brownies together. First we sprayed the pan and spread the cookie dough on the bottom of the pan. We only bought a small roll of cookie dough and looking back, we should have gotten the bigger roll. Or cut the roll up into rounds and put them down on the bottom instead of just spreading it out. Doing it this way didn't really cover evenly, but it worked in the end.
The next step was to place the Oreo's on top of the cookie dough. We got double stuffed Oreo's like the recipe calls for, but while we were there, we saw a bunch of different Oreo's out now. These would have been awesome with vanilla Oreo's or even the mint Oreo's. Or even the colored Oreo's that come out during the holidays!
The next step is to mix up the brownie mix. We spent like 20 minutes deciding which kind of brownie mix to by. Eventually we settled on a dark chocolate mix with chips because it was on sale and we figured the dark chocolate wouldn't make the brownie too sweet with everything else in the brownie. Lastly, pour the brownie over the Oreo's and pop the whole thing in a 350 degree oven for about 45-50 minutes. Check for done-ness (yes it's a word!) buy poking a toothpick in the center trying to avoid the Oreo's. When the toothpick is clean, the brownie is done! Just let cool enough to handle and cut into that awesome creation!